What is Paw? Good question! Not good as the question "What is Music?" but for sure not more bizarre than any answer to it.

In context of this recording session (actually only occasion the Paw musicians ever played together), Paw could be interpreted as a chaosmos, a "pawerful" space between more milieux, where chaos meets rhythm and where it undergoes transformations. Here the rhythms of three musicians struggle against chaos; they are trying to master (means to compose) it, to establish the planes in it, and make it to be sensible. In other words, they want to transform the chaotic variability to the chaoid variableness.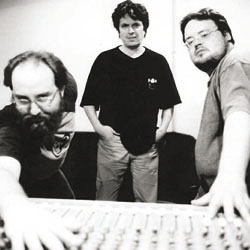 Everything is different after Paw: material, expression modes, syntax (in terms of time and space), semantics, and even the musicians themselves. At the beginning there were weak attempts at vocal Paws, in the end there was strong instrumental Pawer. In between from the "real pawer" the "new pawetics" was born. The established planes perceived by a listener reflect the momentary as well the momentous decision and reaction gestures and symbols of the musicians.

Three very different attitudes, experiences and styles of music-making stand behind the live (although recorded) interaction between their ideas, sometimes on the very level of subconscious. Methods involved in the process range from the free improvisation and live electronics to the real-time editing and feedback deconstruction.

Paw Music is maybe rude, but by no means artless. Paw musicians have manners and their "forehearing" sense is refined through long musical experience.

And so, one of the possible answers to the question put at the very beginning could be: "Paw is a dynamic intersection of three different individual sound aesthetics that purposely met one summer day in studio at the Danube island in Budapest in order to explore the potential of chaos, to set up intuitively the significant planes in it, and to communicate their imaginations and desires in mutual interactions." No more, no less, just a natural ambition of three creative beings wishful to articulate the plurality of ungraspable world at one of its fringes.

I was lucky to be there.
HEyeRMEarS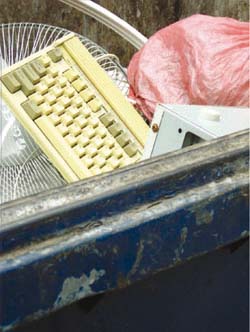 Reviews
Etherreal // song of praise radio program // vital weekly // revue et corrigée // paristransatlantic // epsilonia // Tapage Nocturne // le son du grisli
Artists


Zsolt Sőrés a. k. a. Ahad
He was born in Budapest, Hungary in 01/01/1969, and he still lives there. He is a violinist. He is an improvised/electroacoustic and noise musician, performance and conceptual artist. His field of interest and activity – beside music – includes the borderline and the margin of different art forms.
Since 1996 he has been one of the managig editors of the avant-garde and experimental artistic periodical, Magyar Műhely (Hungarian Workshop) and the editor of the musical coloumn of Jump Contemporary Performance Art Magazine. Since 1992 he is the member and the program managing editor of the still independent Tilos Rádió (Forbidden Radio). He has participated in several experimental artistic exhibitions since 1994. He was the musical member of Eszter Gál`s experimental dance company (Company ST) since 1995 and Cie2in1 (Austria-Hungary) since 2004 and he worked with Sylvia Scheidl and Mariella Greil (Austria) in 2005. From 2006 he is also working with Gábor Goda's Artus Company.
He worked together with other coreographers/dancers, poets, fine artists and conceptual artists such as Bryan Sentes (Canada), Jutta Obenhuber (Germany) and LENGOW & HEyeRMEarS (Slovakia). He was of the co-founder of several hungarian experimental music groups, especially SoKaPaNaSz (1993-1994), Talesco. (1994-1997) and the still exist Spiritus Noister. He has been working together with Zsolt Kovács in the improvisational duo with the name of s.k.y since 1994. He has performed music – among others in ad hoc groups and different projects – with Le Quan Ninh (F), Martine Altenburger (F), Alessandro Bossetti (I), Burkhard Stangl (A), Manon Liu Winter (A), Helge Hinteregger (A),Peter Herbert (A/F), Phill Niblock (USA), Ernő Király (YU), KJ Holmes (USA), Martin Klapper (DK), Johannes Bauer (D), Alexander Frangenheim (D), Wolfgang Fuchs(D), Paul Lovens (D), Thomas Lehn (D), Torsten Müller (D), Birgit Ulher (D), Dorothea Schürch (CH), Dieter Ulrich (CH), Voicecrack+Günter Müller (CH), Toshi Makihara (J/USA), AMM Ensemble (GB), John Butcher (GB), Peter Cusack (GB), Rhodri Davies (GB), John Edwards (GB), Phil Durrant (GB), Tim Hodgkinson (GB), Stuart Jones (GB), Phil Minton (GB), Evan Parker (GB), John Russel (GB), Pat Thomas (GB), Alan Tomlinson (GB), Roger Turner (GB), Veryan Weston (GB), Mats Gustafsson (S) and Raymond Strid (S). Beside Hungary he has performed pieces of music and of conceptual performance in Austria, the Czech Republic, Finland, France, Germany, Italy, The Netherlands, Poland, Romania and Slovakia. Since 2000, he is the member of The Abstract Monarchy Trio (Austria-Hungary, with Franz Hautzinger and Zsolt Kovács); since 2001 also the member of Budapastis (France-Hungary, with Lore Bargès, Zsolt Kovács and Franq de Quengo), izo-fr (with Zsolt Kovács and Pál Tóth) and Anti Action (Canada-Hungary, with Laura Kavanaugh and Ian Birse). Since 2002 he is the member of The Sonic Catering Band (with Peter Strickland, Tim Kirby, Colin Potter, R. R. Habarc, Zsolt Kovács, Pál Tóth among others) and PAW Music (France–Hungary, with Quentin Rollet and Pál Tóth). Since 2002 he is also the member of the concept art group The Lazy Anarchists (Hungary–Slovakia–USA, with Jozef Cseres, Zsolt Kovács, Gen Ken Montgomery and Ben Patterson) and from 2009 a duo with Christian Skjødt (Tonometermusic, DK). He was one of the main organizer of Pause–Sign (Szünetjel) International Experimental Music Festival in Budapest till 2001. Since 2004 he is a teacher of Kontakt Budapest – Festival and Workshop of Improvisation. He is the main organizer of the Club of Invisible Films project at Ludwig Museum in Budapest. From 2006 he started his own special solo project under the pseudonym DJ AHAD, and using audio files from underground and avant-garde movies. Since 2008 he is the artistic director of Relative (Cross)Hearings Contemporary Music Meeting in Budapest.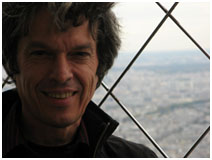 Pál Tóth a.k.a. Én
Pál Tóth a.k.a. én is a Hungarian sound artist and radio producer, living in Budapest. In the frame of his radio programme, we can regularly hear what he calls "ether concerts", compositions made to the medium itself and comprising an improvised (real-time) method of editing, Pál Tóth confronts the listener with an evolving sense of time and duration that transcend questions of musical form to focus in the idea of shape, in the potentialities of a sound representation as stream of consciousness.
He was the programme editor of Illegal Radio Forbidden between 1992-93 and from 1995 as the member of (legal) independent Radio Forbidden from week to week already 6 years he prepares his programme "No Wave" presenting the today's experimental and electro-acoustic music inclanations. Since a decade, he gives concerts and participates in artistical events, he mixed music for contemporary dance production and makes sound installation as well. In the frame of his programme, we can permanently hear "ether concerts" presenting his own electro-acoustical musical compositions. Regarding the improvised method of editing, his compositions takes from music concrete, from plunderphonics and from sound art as well.
Pál Tóth a.k.a. én performed in different projects, presented his works in several festivals and events in Austria, Czech Republic, France, Hungary, Slovakia.
Solo album releases:
én: opus 10128 (CD sirr 011, sirr ecords, Portugal, 2003)
én: opus 10930 /Seven Days/ (UHCDR 05, Hungary, 2004)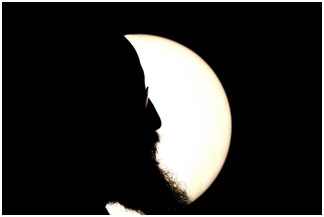 Quentin Rollet a.k.a. Q.
Born 1974, son of the Free Jazz drummer Christian Rollet (Workshop de Lyon, Marmite Infernale, ARFI, Carrérarie...). Starts playing alto saxophone at 11. Spends quite a lot of time to un-learn what was taught in music school. Plays in the french hardcore band Prohibition from 1994 to 1999. Starts the Rectangle record label with french guitar player Noël Akchoté in 1995 (produced 60 releases over 10 years including David Grubbs, Fred Frith, Derek Bailey, Eugene Chadbourne, Costes, Jean-Marie Straub-Danièle Huillet, Katerine...). Starts touring with David Grubbs in 1997. First meeting with The Red Krayola (and appearance on stage with them) in Graz, Austria in 1998. Appears on stage and in the studio with bands like Bästard, Ulan Bator, Mendelson, Dragibus, Costes, Cyann & Ben, Red, Herman Düne, Charlie O trio... Plays in the Free Jazz band Akosh S. Unit for several years (tours in France, Hungary, Romania, Germany. Forms the band MOSQ with eRikm, Akosh Szelevenyi, Charlie O. During all this time, works also for the french porn movie director John B. Root, for a reggae record label and of course is bartender in a wine bar in Paris.
Will appear this year on records by The Red Krayola, Lisa Li-Lund & Gilb'R, Villeneuve, as a duo with Yaya Herman Düne, as a duo with Ghédalia Tazartès.
Discography (selection)
Prohibition
Cobweb-Day - LP & CD - Prohibited Records - 1995
Towncrier - LP & CD - Prohibited Records - 1996
#5 Follow the Towncrier - CD - Prohibited Records - 1997
14 Ups and Downs - LP & CD - Prohibited Records - 1998
Q.+O. (Quentin Rollet & Charlie O)
Masnapos - 7" - Rectangle
MOSQ (eRikm / Charlie O / Akosh S. / Q.)
MOSQ - CD - Rectangle - 2001
Akosh S. Unit
Kebelen - CD - Universal Music Jazz - 2001
Kaloz 1 - CD - autoproduction - 2002
Nap Mint Nap - CD Universal Jazz - 2004
The Red Krayola
Five American Portraits - LP & CD - Drag City - 2010
Solo:
Q.
Aka Doug - 7" - Rectangle - 1998
coming soon :
Yaya Herman Dune & Q - 7" - Pop In Records - 2010
The Big Crunch Theory (Lisa Li-Lund & DJ Gilb'r) - LP & CD - Versatile Records - 2010